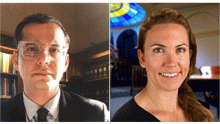 L to R: Honorees Marcelo Rodriguez (2nd), Anna Russell (9th).
The achievements of two federal court librarians are being nationally recognized by the American Association of Law Libraries (AALL). Ninth Circuit Anchorage Branch Librarian Anna Russell has been named recipient of the AALL 2019 Emerging Leader Award, and Second Circuit Research and Training Librarian Marcelo Rodriguez has been named recipient of the 2019 Minority Leadership Development Award.
Anna joined the Judiciary in 2017 and quickly demonstrated her value to the Ninth Circuit Libraries and the National Library Program. She is an active member of national library working groups focused on developing resource cataloging standards and supporting library outreach and communications to users. Within the Ninth Circuit Libraries, Anna has taken a leadership role in major initiatives including community civics outreach and chambers' migration to Office365. Anna is a U.S. Navy veteran with an undergraduate degree from Notre Dame, J.D. from the University of San Diego, and MLIS from San Jose State University. She worked with the Federal Bureau of Investigation as a cyber analyst and as an academic law librarian before joining the Judiciary. Anna says that the most rewarding aspects of her job include working with talented colleagues, taking on challenging research projects, and investigating new technologies to support the Judiciary.
Marcelo came to the Judiciary in early 2018 and took a lead role in teaching legal research to students in the newly opened Second Circuit Court of Appeals' Learning Center, which is a component of the circuit-wide Justice for All civic outreach and education initiative. Marcello has been inspired by his young students' enthusiasm to learn about the U.S. judicial system, and he believes librarians are uniquely positioned to serve as a bridge between the federal courts and the diverse communities they serve. Before joining the Judiciary, Marcelo held the position of research librarian at the NAACP Legal Defense Fund, founded by Justice Thurgood Marshall. He also served at the Columbia Law School Library, the Central Library of the International Criminal Court (ICC) in The Hague, and the Law Library of Congress in Washington, D.C. Marcelo received an undergraduate degree from University of Puerto Rico and MLIS from Queens College, CUNY.
Anna and Marcelo will be formally presented with their awards during the AALL annual meeting's awards luncheon in Washington, D.C., this July.
Questions about the national library program can be directed to CSO's Law Library Program Administrator Sarah Rhodes, 202-502-1210, or Legal Resources Administrator Angela Jaffee, 202-502-3876.